Reclamation and California State Parks announce restoration and reopening of Birdsall Road river access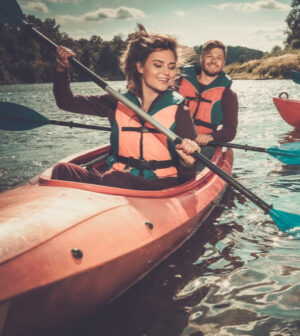 Reclamation and California State Parks today announced that the Birdsall Road access to the North Fork American River near Auburn is restored and reopened to public access and use.
Birdsall Road river access is a popular launch or recovery site for non-motorized watercraft such as kayaks and rafts. It is immediately downstream of the Rocky Island Bar kayak and rafting rapids developed as part of Placer County Water Agency's American River Pump Station project. The repairs enhanced river rescue operations since it is the most convenient vessel launching site and emergency access to the area.
Heavy rain events damaged river access during the winter of 2016-2017; sloughing, road-surface cracks and complete wash-out of the non-motorized launch and recovery ramp occurred.
Reclamation secured funding and construction management for the project through the Federal Highway Administration Emergency Relief for the Federally Owned Roads program. Road repairs began in October 2019 and recently completed on February 28.
Birdsall Road river access is located on lands acquired as part of Reclamation's Auburn-Folsom South Unit of the American River Division, Central Valley Project. The lands are managed for recreation by Reclamation's managing partner, California Department of Parks and Recreation, as part of the Auburn State Recreation Area. Additional information about Auburn State Recreation Area can be found at https://www.parks.ca.gov/auburnsra.
Contact Warren Kasper for more information at the Central California Area Office, 916-537-7081 (TTY 800-877-8339), wkasper@usbr.gov or 916-537-7035 (fax). Call Mike Howard, Superintendent of Auburn State Recreation Area, at 530-885-4527 or check the website http://www.parks.ca.gov/?page_id=502.